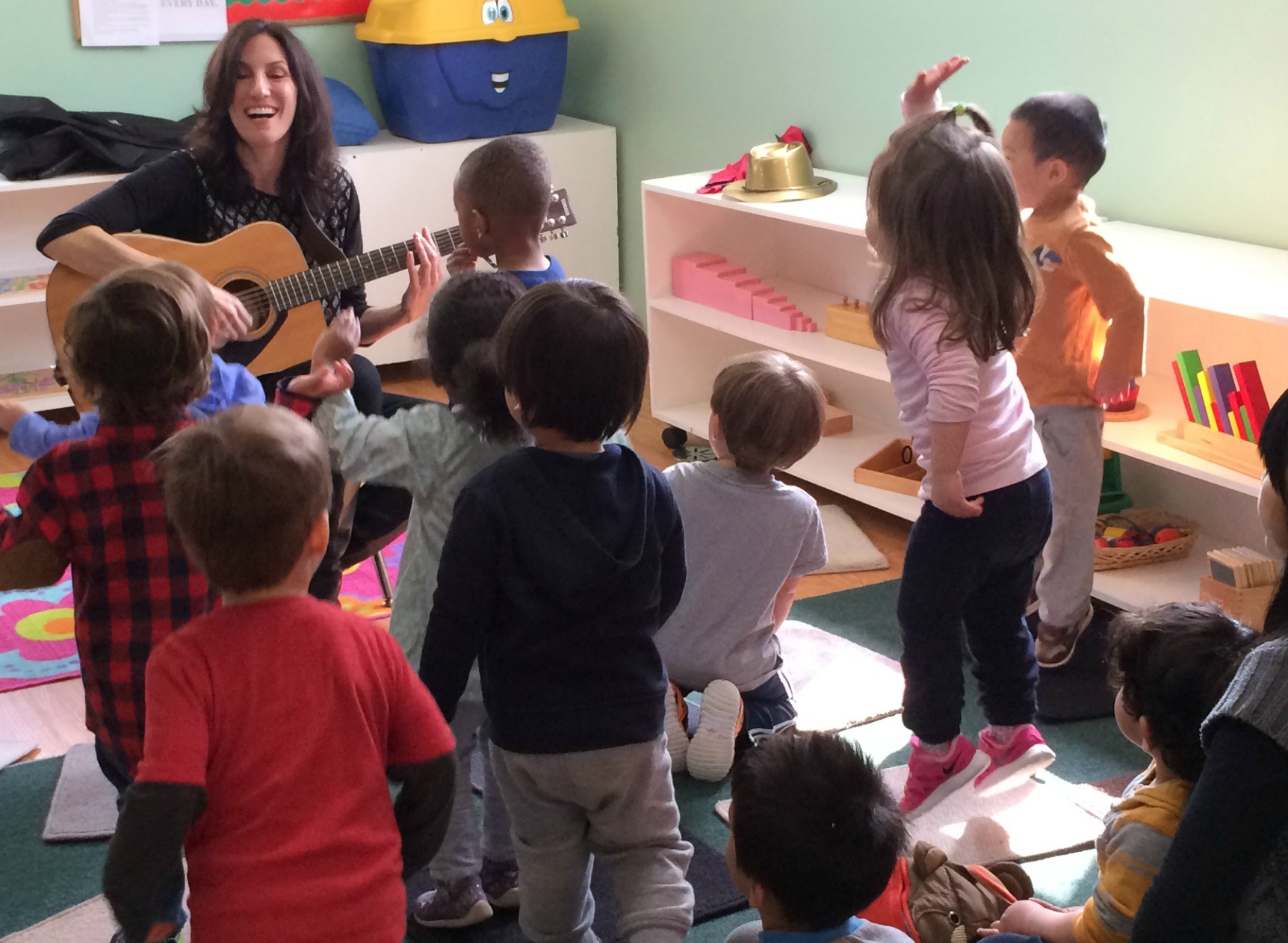 Circle Time: One of the most valuable opportunities for group learning and engagement in an early childhood learning environment.
Designing one's "lesson presentation" can be challenging, however-especially when conveying information in a way that can be effectively interpreted by a spectrum of learning styles.
You can read about the 7 different learning styles in children in this article by Diane Miller from "The Educator's Spin on It".
I wrote my song, "Wonderful You", to remind children that  "…different is better than being the same".  I was inspired to write that line by the painting below, created by artist Marco Bucci, "Multiple Intelligences", which I LOVE, because it captures how meaningful circle time songs and stories can be, from both teachers' AND students' perspectives.
You can see in Bucci's painting that the teacher is reinforcing her lesson using multiple teaching strategies to reinforce the theme (Animals and Pets). While the children are all listening and focusing intently, they are each clearly designed to interpret what they are witnessing in their own unique ways:
In combination with recognizing and catering to different learning styles, I agree with this image's message that a given lesson's success in making its way into a child's long-term memory increases by making the teaching METHODS as diverse and memorable as we can, whether it is reading aloud, using props, games, media, learning tools and diagrams to transmit information into little minds, or–my favourite method:  Music.
Music consistently proves itself to be universally effective (and very valuable) in ensuring the retention of information, regardless of children's individual learning styles.  Perhaps this is because of the automatic associations that result from music's melodies, harmonies, cadences, rhymes and its patterned/predictable structure. Music also has a magical ability to seep into our innermost thoughts, naturally resurfacing and reinforcing retention of the lyrics associated with the music we have heard.
Many of us have heard Benjamin Franklin's famous quote, "Tell me and I forget, teach me and I may remember, involve me and I learn." I recognized early in my career as a preschool and Kindergarten teacher, that short, musical lessons were the best proof of this learning model.
Listen to/learn a song.
Practise the song together.
Have students sing the song independently.
I have done the footwork with what works best, from experimenting with nursery rhymes (when I was a student teacher over 20 years ago), to releasing my own albums of short, educational, musical lessons.
My recorded music is specifically designed to be used in early learning environments, to supplement the themes/curriculum.
Now, when I sit with a new group of children for the first time, I feel as if I am about to perform a well-practiced gymnastics floor routine at the Olympics, with the hardest-marking judges in the world.
Happy, clapping, engaged kids who demonstrate their comprehension of the information I am teaching them through my music is like receiving a perfect score for my well-practised "floor routine".

I'm happy to share my favourite and most effective circle time songs with you, and hope you find them helpful and useful!  Most importantly, though, I hope you have lots of fun with them–because some of the best learning occurs when we are excited/happy!
Every Day Circle-Time Songs
Although I recommend using the same introduction and goodbye songs daily, I like the idea of having a "circle time song of the week" to match your classroom theme.  I have many songs that are designed specifically to be taught/learned in association with specific classroom themes, like Outer Space, Animals, Transportation, etc., but here are some that can be used any day of the year:
This "Follow Nancy" playlist from my YouTube Channel, "Music With Nancy", includes many of these songs. Simply pop the video on and follow along with me!
Calendar-Themed Songs
My Calendar Songs, What's The Weather ("Wonderful You"), The 7 Days of the Week and the 12 Months songs (both from "Shadow"), are also designed to be used at Calendar time–which you can read more about in my post here.
Children focus when music is incorporated into learning.  Even if they are half-listening or dreaming about something else, music sinks in subconsciously. With daily practice, as part of your circle time routine, the lessons embedded within MY music will be absorbed naturally and completely.
Want more from Nancy? Live, weekly classes, instructional music and movement videos, music ideas, activities, resources and more exclusive content HERE.
More circle time music/movement ideas in this post from Preschool Inspirations and this post from The Inspired Treehouse.
You can find all of Nancy's music on any platform online.