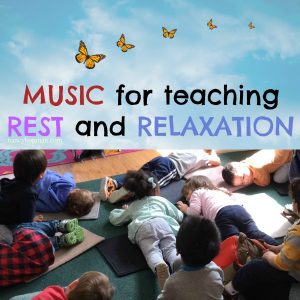 Children's Music for Rest and Relaxation can be used as an effective tool in helping children establish, strengthen and manage their own self-regulation. Knowing how to help oneself relax and focus is a healthy foundation for managing/coping with stress.
As much as music has the power to generate excitement and make kids want to get up and move, it can be equally effective at helping kids slow down their breathing, thoughts and bodies.
Music is also a very effective noise cancellation tool children can use to filter out noise from the world around them and achieve singular focus on the message within the music.  In this busy, overstimulating world,  achieving a healthy, thorough state of rest is something kids' busy minds really need.
Relaxation Requires Skill Building.
If you think this means that you can just turn off the lights, turn on some music and expect a room full of 5-year-olds to magically become quiet, think again!  Rest, just like anything else, requires preparation,  learning useful techniques and practice.
Choose your moments strategically.
When time/schedule permits (nap time, long car rides, bed time), and children appear comfortable and  open to the concept of rest, try using the song  "Breathe In, Breathe Out" , track 16 from the album, "Shadow" , which is designed specifically to be used when children are willing participants in resting.
Their minds and bodies can benefit in so many ways from learning the good feelings associated with resting.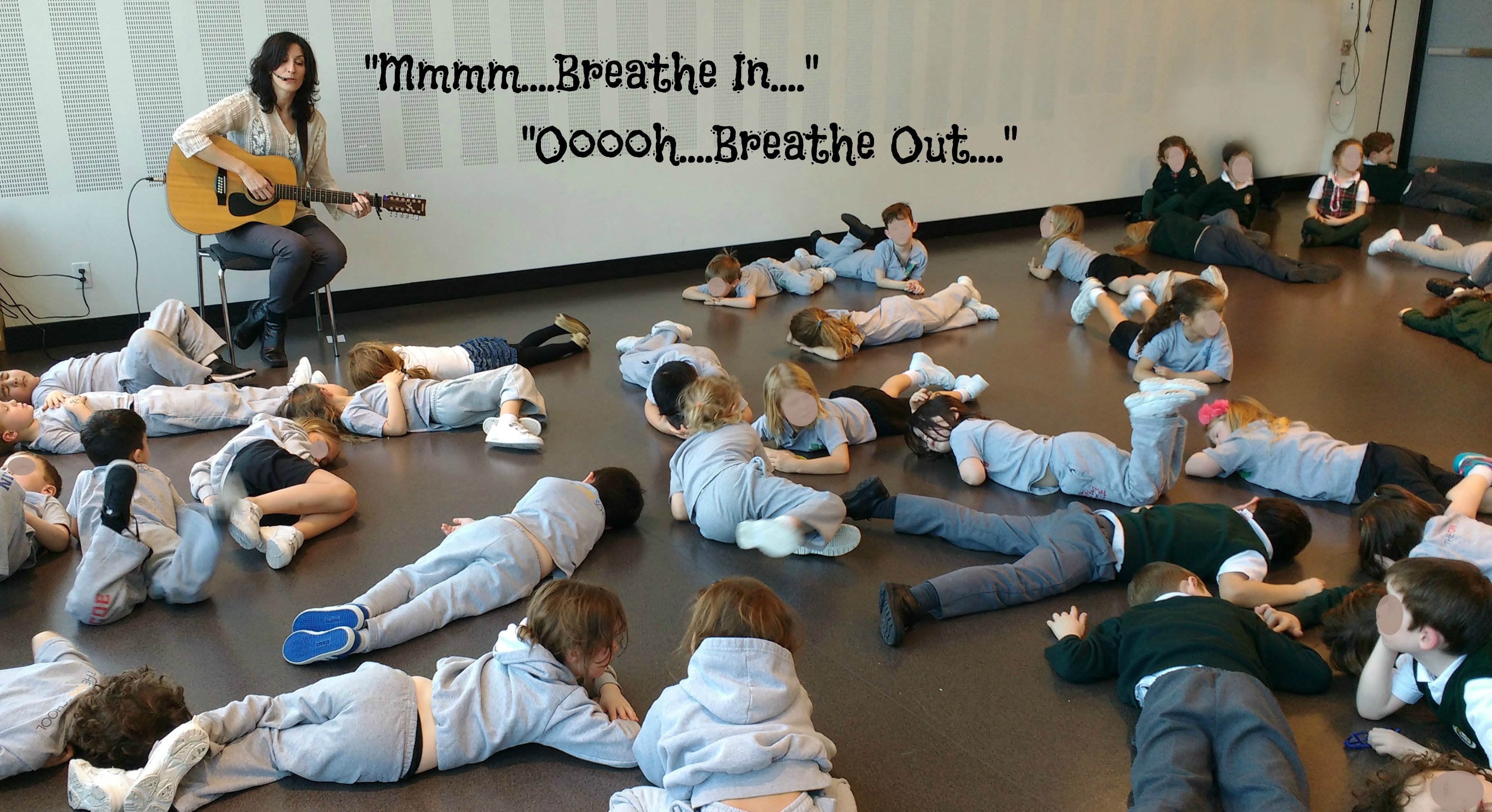 Parents, caregivers and teachers will see positive results when using and practising this song to coach children into a deeper and deeper state of relaxation.
The only lyrics in the song, "Mmmm…Breathe In….Ooooh….Breathe Out" are timed with the music to guide children into breathing in for 4 beats and out for 4 beats.  Playing the song on repeat and reducing the volume slightly each time it plays also results in a deeper level of focus on the music as well as hearing their own breathing patterns.
Every time they hear this song, children are reminded of the positive experiences/feelings associated with resting. This "trigger effect", either when listening to the song or humming it to themselves, can help them cope effectively when they find themselves in situations when they are not feeling so calm.
"Breathe In….Breathe Out" Testimonials:
Nicole Schwarz, MA, LMFT, Parent Coach (www.imperfectfamilies.com):
"'Breathe in, Breathe Out' is a beautiful way to help kids calm their bodies and minds. Many children have no idea how to take a good, calming deep breath. The vocals in Nancy's song provide a fantastic guide to learn this type of breathing. The music provides a relaxing background for meditation, soothing relief for anxiety, or as a way to wind down before bed."
Casey O'Roarty, M.Ed., Certified Positive Discipline Trainer, Podcast Host (www.joyfulcourage.com):
"I work with many parents of young kids who feel they are at a loss when their child is in full meltdown mode. At times, it can feel like children have gotten past a point of no return. Nancy's song, "Breathe in, Breathe Out", is an amazing tool to use to help children learn to self-regulate. Listening to it often, and practicing long calming breaths when children AREN'T in a meltdown, helps them cope more readily when they ARE. It's also a powerful tool for parents, themselves!"
Katie Hurley, LCSW, Child & Adolescent Psychotherapist, Speaker and Author of "The Happy Kid Handbook" (www.practicalkatie.com):
"Children don't always know how to slow their breathing when their emotions run high. Practicing deep breathing and mindfulness when kids are calm is the best way to help them internalize the benefits of slowing their heart rates and relaxing their bodies when under stress. "Breathe In, Breathe Out" is a calming, catchy song to help kids practice this essential skill. They'll find themselves singing along in their minds as Nancy's music cues them to breathe in and out slowly. I always recommend tools like this to kids of all ages. When they can visualize it in their minds, they are more likely to use it when under stress."
Joanne Foster, EdD, coauthor of Beyond Intelligence: Secrets for Raising Happily Productive Kids (2014) and author of Not Now, Maybe Later: Helping Children Overcome Procrastination (2015). www.beyondintelligence.net:
"Nancy connects with children on different levels: The mind, the body, and the creative spirit. She inspires and also gently instructs. She does this by helping children appreciate music, movement, and playful interaction. I've had the pleasure of participating in a weekly adult and toddler music group with Nancy, and Breathe In, Breathe Out is just one of many wonderful songs that she enthusiastically shares with little ones. Nancy's music provides a joyful way for young children to learn and gain awareness of the sensory world around them."
Watch the video and hear the song here:
** Related article by Katie: 10 Strategies to Help Your Anxious Child in the Moment**
** 8 Fun Breathing Exercises for Home and School (with printables!) from Childhood 101
**10 Mindfulness Exercises to Do With Your Kids (from Kids Stuff World)
**Bits of Positivity: Free Relaxing Music for Studying and Concentration for Kids