When you stop to think of all of the physical, emotional, social, mental and sensory stimulation young children encounter in early group learning environments, it is easy to see why designated "rest time" is necessary.
When children are naturally inquisitive, energetic, easily excited and enthusiastic, it is fairly easy to encourage active play/work. When they are feeling tired, however, how do you encourage them to rest?
Music can be a magical tool when attempting to influence children's behavioural conduct, energy, emotional regulation and management–even their breathing patterns can be affected by melodic and rhythmic guidance, especially when introduced at a time when it is apparent that they need a good, concentrated rest.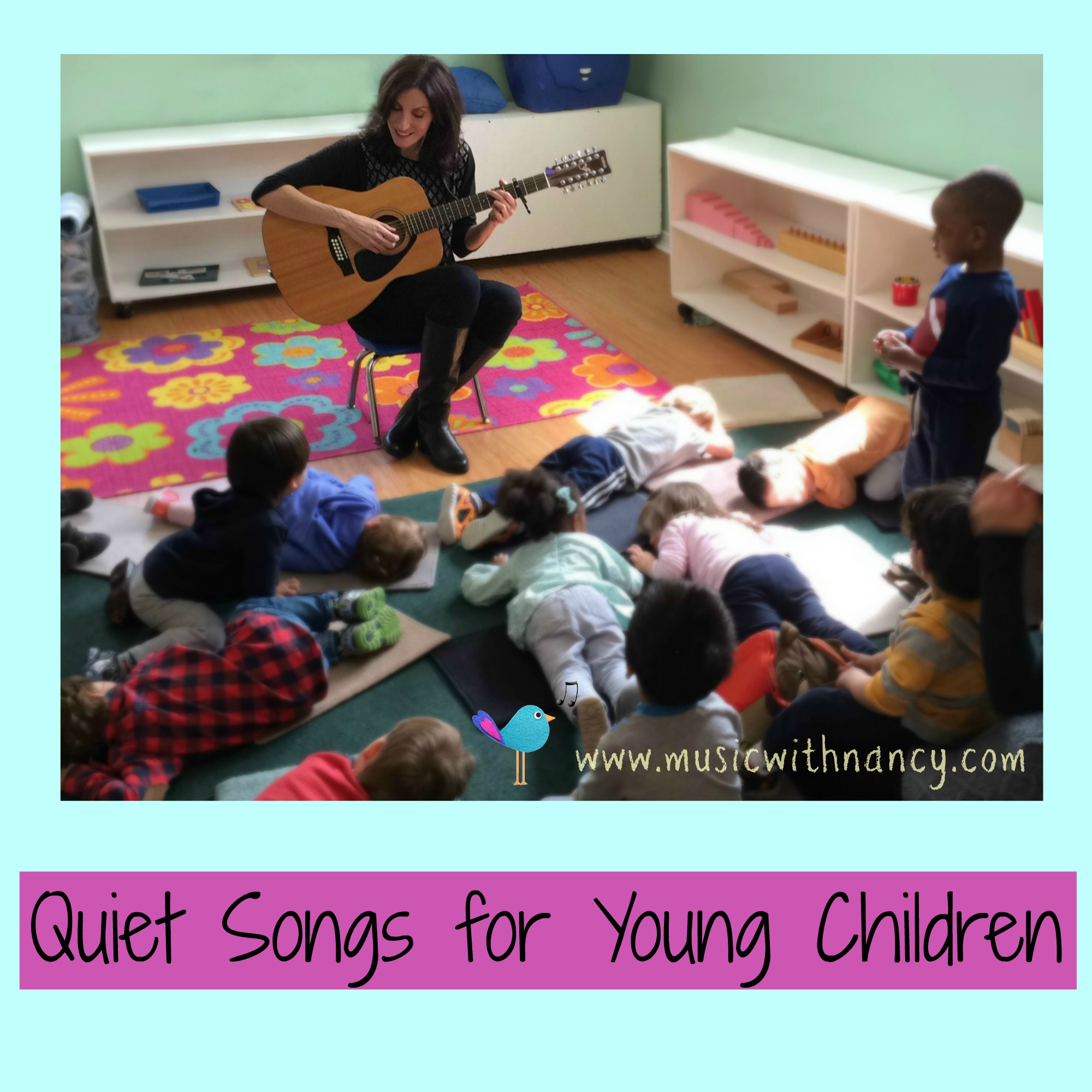 Below is my recommended playlist for rest time.  Depending on your time restrictions for rest (played back to back, this songlist's duration is just over 20 minutes), you can use one or two songs from this list, play them in order or even play each song twice, if you have a long rest period. The songs suggested here are in progressive order, from introducing rest, to deep rest, to "resurfacing" from relaxation:
 Transitional song to introduce rest to the body and mind
 Listening and thinking song
 Pattern-focused song
 Inner resource-building song
 Peaceful learning/thinking songs
 Gentle "Time To Wake Up" song, to indicate that rest has come to an end.
My Quiet Song Playlist:
"We've Had a Lot of Fun", from "I Know I'll Grow…." (Track 10) :

"We've had a lot of fun, now it's time to go to sleep/Close your little eyes, I don't want to hear a peep/But you can make your fingers dance, if you want to…." –A transitional song for settling into stillness that singles out and instructs fingers, toes, hands and feet to move a little bit while the mind instructs the body to rest.  A quiet direction-following game (2 minutes 40 seconds).

"Breathe In, Breathe Out", from "Shadow" (Track 16).

This song is timed carefully to match the time it takes to take a deep breath in…and then let it out slowly. Encourage children to "mmm….breathe in" through the nose and "ooh….breathe out" through the mouth along with the song. You can read what educators, psychologists and yoga specialists have to say about how useful this song can be here (3 minutes, 40 seconds). WATCH THE VIDEO ON NANCY'S YOUTUBE CHANNEL HERE.

"Hush, Hush", from "I Know I'll Grow…." (Track 9) 

A dreamy, soft, "listening and thinking" song without actions. "Hush, hush/Quiet please/Birds are sleeping in the trees…Hush, hush/Quiet now/The baby is sleeping, show me how…Hush, hush/Take a rest/Everybody do your best…" (2 minutes, 28 seconds).

"The Animals", from "I Know I'll Grow…." (Track 8)

A hypnotic,  repetitive, pattern-focused  song that builds four short melodies on top of each other, one at a time, until all four matching harmonizing variations are played together. One melody at a time is then taken away until the song comes back to where it began.  You can also introduce the video for this song to your students/children from my YouTube channel beforehand, which demonstrates introductory addition and subtraction concepts, or use it to supplement your "Animals" classroom theme (2 minutes, 55 seconds).

Here's the video from my YouTube channel (SUBSCRIBE!):

[youtube https://www.youtube.com/watch?v=MnAj8pkWNVU&w=560&h=315]

"Wonderful You", from "Wonderful You" (Track 15)

This empowering, self-esteem-building song teaches children to "…stop and appreciate, let all the positive in", "Remember the good things that make you yourself", "You never have to try to be like anyone else", "different is better than being the same", "What goes around, comes around, make the right choice" and to "…remember the people you love".  This song is chock-full of positive mantras to which children can refer as part of their "inner voice".  Playing this slow, calm song while kids are in a deeper state of relaxation helps the concepts in this song settle deeply into children's minds and hearts, and be there when they need to rely on their inner resources to help them cope with future emotional experiences (3 minutes, 50 seconds).

"The Bathtub", from "I Know I'll Grow…." (Track 7)

As much as this is a song about washing/recognizing different parts of the body, the melody and tempo are slow, steady and you can't help but rock back and forth as you listen.  A dreamy, calming "experience song", complete with bathtub sounds…water has such a magical way of calming the human mind (3 minutes, 8 seconds).

"Seasons", from "The Seasons" (Track 9)

This quiet, informative song takes children on a dreamy trip through the peaks and valleys of the seasonal changes, mentioning the names of the months of the year as it describes the weather (2 minutes).

"It's Raining Outside", from "Shadow" (Track 15)

As with "The Bathtub", water is one of the most relaxing sounds that comes from nature.  Following "Seasons" with "It's Raining Outside" not only flows with the weather theme (Find my weather song in this post about calendar songs), it provides the white noise-like sound of a light rain in the background (1 minute, 56 seconds).

Here's the video for "It's Raining Outside" from my YouTube channel (SUBSCRIBE!):

[youtube https://www.youtube.com/watch?v=TOyO0DRp8e8&w=560&h=315]

"It's Time To Wake Up", from "Shadow" (Track 1)

This bright (but still dreamy) wake-up song gently encourages children to open their eyes and get their minds and bodies "started" again.  The tune will linger in their minds as they leave their rest period behind and begin to focus on their next experience of the day, now that they are recharged from their rest (58 seconds).

Happy resting!

You can find all of my music available for download on iTunes here.

Join my Facebook community of educators and parents here!