Transition Songs for Young Children: Music Helps With Routine
I am a participant in the Amazon Services LLC Associates Program. As an Amazon Associate I earn from qualifying purchases. Affiliate links from Amazon or other programs are used on this website. See my disclosure policy here.
Establishing routines in an early learning program requires meaningful, memorable instruction, demonstration, experience and practice.
Songs can be so useful in helping establish routine!
I've got some EASY suggestions for you for Circle Time Songs that you can use to start your day, songs for your Calendar Time routine–and check out my "Follow Nancy" playlist on YouTube for lots of action-packed songs you can use as transition tools anytime at all!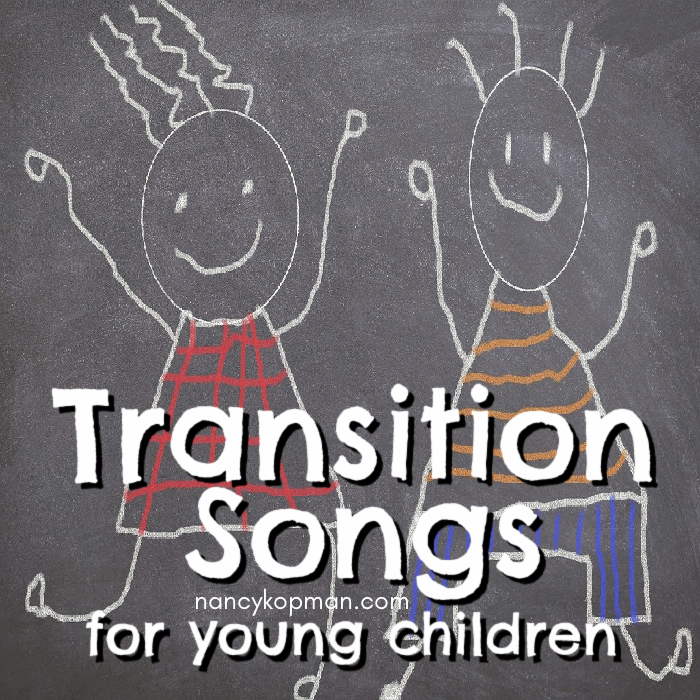 Whether you're conducting educational programming from home or in a formal learning setting, transition songs can be useful in helping children understand and remember what's happening now and what's happening next.
Songs with lyrics that describe what is happening are a bonus, as they help develop: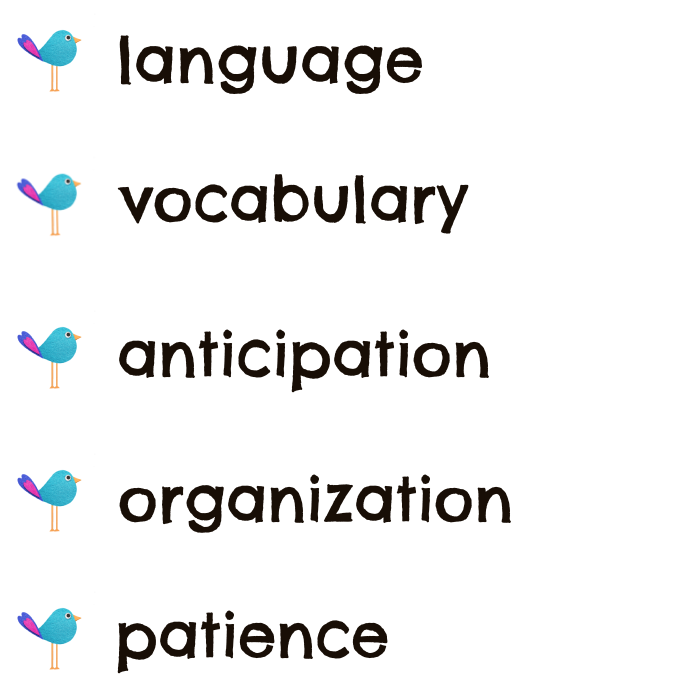 If you're familiar with my educational music for young children, you might already know some of my transition-specific songs.  I wrote these songs to be used specifically by parents/educators/caregivers and children to establish routine and help make transitions between activities meaningful and memorable.
Before I get into my transition-specific songs, I want to share some of my "Attention Grabber" songs with you.
"Attention Grabber" songs are action-rich "anytime songs" that get kids moving and happy. I find that children attend best when they are feeling energized. These types of songs are highly useful for reminding children how to follow directions as a group and "resetting the stimulus" before transitioning to another task.
Attention Grabbers:
Here are a few songs you can use anywhere, anytime to capture children's attention and refocus with a quick, action-focussed musical game/activity:
This song gets kids clapping, patting, swaying, counting, playing Peek-A-Boo and jumping. It's easy to learn/follow along with and is the perfect "palate cleanser" song you can use at any point during the day to refresh, regroup and have fun connection time.
This is a useful song for repositioning/exercising all parts of the body and getting those hearts pumping/circulating blood in those growing bodies and minds. Get them on their backs with their legs in the air and go for a bicycle ride–getting their mindset focussed on following directions will come in handy when you are ready to share your instructions for what's happening next.
If you're looking for a non-musical cue that helps develop patience/a sense of understanding of a schedule, I like this visual, colour-coded time tracker!  This builds and reinforces awareness/memory/anticipation when changes are about to happen. 

Transition-Specific Songs
This song explains that it's time to "…collect the things you were using and please put them away". It repeats a few times, in order to give you time to sing along while you're  clearing things away and getting organized for the next step in your routine.
We've all encountered the inevitable competition that goes along with lining up. Everyone wants to be first, right? This song encourages children to "…come and find your place in line and I'll find mine", as well as explains that a line needs everyone to work together to  "…blend into the front, the middle and the end".
Some people teach children to sing the "Happy Birthday Song" while washing hands. Let's take it a step further: A song ABOUT washing your hands WHILE you're washing your hands! Makes sense, right? This song describes washing "…each finger with soap and with water", making sure, once again, that the lyrics are reminding children what the focus is while they're experiencing a transition/task.
The end of a learning day can be hard, especially when children LOVE learning with you! "Goodbye, Goodbye" is a fun, concise, easy way to end the day together in a meaningful way–waving to each other and reassuring students "we'll see you all when you come back". I sing this song at the end of every performance!
Want more from Nancy? Live, weekly classes, instructional music and movement videos, music ideas, activities, resources and more exclusive content HERE.
More Transition Cue ideas from my Early Learning colleagues:
Preschool Transition Activities from Pre-K Pages
Transition Strategies for Kids from The Chaos and the Clutter
Songs As a Means to Ease Toddler Transitions from Parenting From The Heart