"How do I keep their attention?"
"How do I maintain focus?"
"How do I keep them interested?"
These are the most frequently asked questions among music specialists who work with groups of young children. They are VERY important questions. After all, how can you teach what you hope to teach if they're looking away/otherwise engaged?
All of us need that "toolbox" we can go to in a pinch: Tools that work–and work well.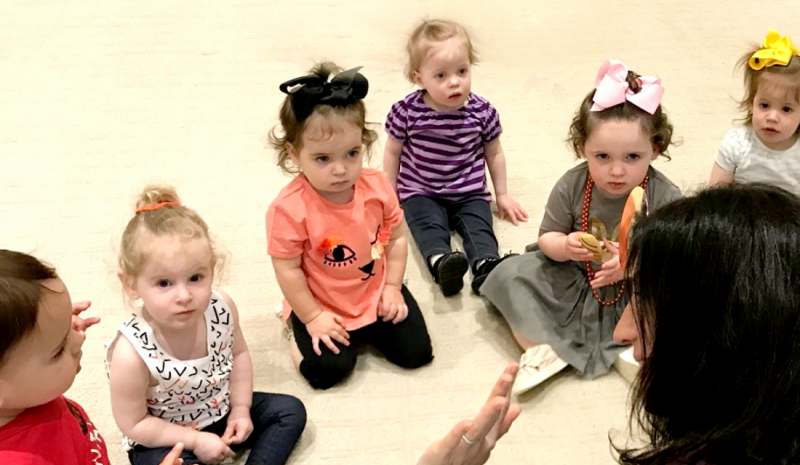 Disclaimer: This post includes affiliate links.
If you are using music in your programming for young children, you've likely wondered what the "trick" is to getting and keeping their attention.
While gaining trust through consistent and genuine loving interaction is essential in terms of motivating children to enjoy your musical lesson along with you, there definitely are some tried and tested "tools" you can keep in your "teacher toolbox" that really make children stop and focus on what you're doing.
Before I get into the tools, here are a few of my musical "nuggets" — Every day songs that can be used as refocus activities all by themselves:
"Walk Around" gets kids walking, bouncing, swaying and twirling.
"Bicycle" gets them on their backs and "riding" their legs in all directions and speeds.
"Ball For Baby" changes the sound stimulus and gets kids following simple, quick-changing actions.
"Tweety, Tweet, Tweet"  gets hands moving and responding to a quick-changing beat.
"Shake, Shake, Shake" is another "whole-body" movement song that gets kids responding/following directions quickly, while energizing them with a fun, bouncy beat.
(Psssst! This is the parachute I use for "Shake, Shake, Shake"! CLICK HERE to get one for yourself!)
Get ready to equip your toolbox:
Here are the 

techniques that work

that come from SEASONED MUSIC TEACHERS with decades of experience.
These ideas come straight from the educators in my closed Facebook group, who use them regularly:
1. USE A SPECIAL INSTRUMENT that's reserved JUST for getting their attention.
Choose your weapon: A small xylophone. A train whistle. A harmonica. A triangle. A wooden frog. A slide whistle….Whichever you choose, introduce this special instrument as an ice-breaker when you're first meeting your group.
Describe your instrument. Tell them where you got it. Tell them why you like the sound. Ask them what it reminds them of. Make a big deal about how special it is for you, and let them know that once you get to know who you can "trust to be gentle with it", THEY will be allowed to use it.
Assure your group that your special instrument is "only used when it's absolutely necessary", and when you do use it, you expect everyone to assume the "listening pose" of your choice–Hands on your head–Finger on your lips–Hands up–whatever you choose together. Once you establish that this is the desired response–practise it a few times, then say goodbye to the instrument.
Use this idea VERY SPARINGLY to maintain its importance, significance and magical outcome.
Watch my triangle in action with mixed ages in this video to see what I mean!
2. START CLAPPING A PATTERN and wait for them to catch on.
Don't make eye contact, don't offer any directions…just clap a pattern. Enjoy yourself while you're doing it. Yes, you might appear as if you've finally lost your marbles (isn't that a prerequisite for being a good teacher anyway?), and once you have the majority of the group's attention, start singing a song that goes with that pattern.
Here is a good song for a moment like this: "Ball For Baby", from "Wonderful You".
This sounds simple, but, when used properly, you'll be surprised at how successful this fun social experiment is in terms of capturing the curiosity of the little ones around you!
3. RANDOM REWARDS FOR POSITIVE CONDUCT during group participation times: Stickers!
Giving out stickers (for ages 3 and up) is a fun reward/consequence technique that boosts self esteem while demonstrating your expectations as a group leader.
"Catch" someone demonstrating desirable conduct and celebrate it together. Make a quick announcement: "I just want to give a sticker to Sarah, because I like the way she's watching me and following what I'm doing".
A positive little moment like this goes a very, very long way!
Grab these great music stickers HERE.
4. Make a sudden, unusual sound with your voice/breath.
Little ones are very attuned to adults' vocalizations/reactions, and pay extra close attention when they hear unusual sounds.
I've used this tool over and over. I hold a long, constant sound–the first note/word of a song, for example, as I wait for everyone to turn and look at me. This works with adults, too! People wonder what's wrong with you, but, hey, whatever it takes, right? We all know that being silly is part of being a good educator…and if our actions garner attention–then we're keeping them focussed.
One of my music friends/educators, Pam Donkin, says: "I take a deep but short audible breath (like I'm surprised) then tap my lap to the rhythm of whatever song I'm about to sing."
5. Class Callbacks: Finish My Phrase!
I'm a big believer in creating classroom management tools through fun group activities.
"Class Callback" practice is an easy and fun activity you can teach right from the first day of meeting each other. Teach your group to "answer" your call as a means to get their attention and get in synch with each other. 
Example:
Teacher: "Hey, hey"
Students: "Ho, ho"
Teacher (louder): "HEY, HEY"
Students (louder): "HO, HO"
Teacher (quieter): "hey…hey"
Students (quieter): "ho…ho"
Once you have their attention, start your musical lesson.
Here is a great graphic from Playdough to Plato with a BUNCH of Callback ideas/phrases!
Whether you're singing songs together or just using these ideas to grab children's attention, I hope you find these tools to be a useful addition to YOUR teaching toolbox.
Join my Facebook group of educators/caregivers and music specialists here, where we share lots of ideas associated with using music as a tool to teach.