Apples and Plants, Plants and Apples:
Whether you're diving into a "Seasons", "Growth", "Apple", "Plants", "Farm" or "Fruits and Veggies" learning theme, if you're in need of songs about apples and plants, I've got you covered with THREE important songs: "Apple Tree", from "I Know I'll Grow…." , "Parts of a Plant", from "Senses" and "I Am A Tree", from "I Am A Tree".
These songs go together nicely. You can also easily apply your own actions to these songs (planting, watering, growing…), making them fun performance pieces.
"Apple Tree" is the song that keeps on giving!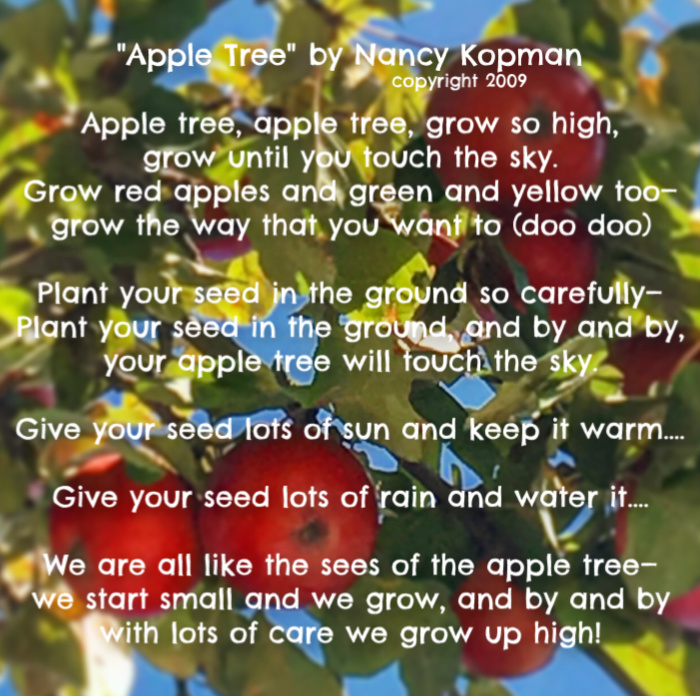 HOW USE THESE SONGS IN EARLY LEARNING:
INTRODUCTION: Play "Apple Tree" , "Parts of a Plant" and "I Am A Tree" in the background while children are playing. This is one of the best ways to "plant" (haha) the lyrics and meaning into their consciousness before you even start talking about the the song!
EXPERIENCE and IMAGINE: Collect apple seeds and put them in a transparent container. Cut an apple in half and pass it and the seed container around (it's an even more thorough experience if you have an apple scent they can smell). Ask the children how they think the apple grows from the seed. Discuss ideas freely–what does everyone think?
CIRCLE TIME QUESTIONS FOR APPLE/PLANT DISCUSSION:
Where did these seeds come from?
How do you think the seeds get inside an apple?
How does an apple tree start growing?
Here are some other seeds (show sunflower seeds, beans for ex). They look different, but they're the same as apple seeds somehow. Do you know how?
What else grows from something small to something big that you can think of?
What does an apple tree flower look like before it turns into an apple?
LEARN ABOUT THE PLANT LIFECYCLE AND PARTS with "Parts Of A Plant" and talk about the different parts of a plant: Seed, Root, Stem, Leaf, Flower, Fruit". This song describes each "purpose" of each part of a plant, talks about photosynthesis, pollinators and how seeds get into the soil to start a new cycle.
LISTEN TO and WATCH "APPLE TREE": Use this video as an explanation of how a seed grows into a tree, and how the tree bears fruit. What do you notice happening in the video? What does the tree need in order to grow? Psst…extra claps to whomever notices the bee: A whole other reason why plants grow–and a very important reason…pollinators like bees (bats, butterflies and ants) are necessary for apple trees to grow. Pollinators are also discussed in the song "Parts of a Plant", too!
WHAT PROPS AND ACTIONS CAN YOU USE WHILE YOU MOVE AND SING "APPLE TREE" OR RECITE THE "I AM A TREE" POEM? Do you have yellow, red and green apple props you can hold in your hands as you grow and dangle the apples from your "branches"?
Follow along with my actions to "Apple Tree" here:

Look at the beautiful trees in this video of the poem, "I Am A Tree":

Follow along with my actions for "I Am A Tree" in this video:

Want more from Nancy? Live, weekly classes, instructional music and movement videos, music ideas, activities, resources and more exclusive content HERE.
Take a look at these posts from some of my friends that have more fun apple/plant ideas:
Colour Sorting Apple Activity from Preschool Inspirations
Setting Up Your Teaching Environment For Your Apple Theme from Teaching 2 And 3 Year Olds