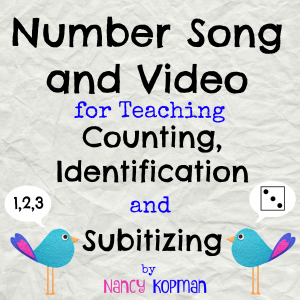 ONE Song and Video for Teaching Counting, Number Identification and Subitizing
Counting, Number Identification and Recognizing quantities of objects ("subitizing") are three very different things that all have to do with learning about NUMBERS.
These are some basic (but important) building block concepts that lead to more organized and complex thinking/problem solving. It's never "too early" to learn about numbers, and there are easy, basic ways of introducing these ideas using fun, meaningful, memorable methods…like singing a counting song!
Teaching reading starts with learning to recognize the letters in the alphabet: What they are called and what each letter's function/sound is.
Similarly, when teaching numbers, we can begin by teaching children to recognize the numbers: For example, the symbol "5" represents the word "five". Once the numbers themselves are recognized easily, children can learn what they represent and how we can use them in practical and useful ways.
Let's focus on 3 specific areas of learning numbers:
3 Ways To Explore Numbers: Counting, Number Identification and Subitizing
Counting: Learning/knowing the sequence of numbers.
Number Identification: Learning/recognizing that the symbol "7" is called "seven".
Subitizing: When quantity is judged/recognized by looking at a grouping of objects (dominoes, dice combinations).
HERE'S MY ALL-IN-ONE Song and Video for Teaching ALL THREE SKILLS:
My song, "Count to 7, Count to 11", from "Wonderful You" (2014), teaches number sequence. The video presents and repeats number identification. Groupings of numbers are taught using domino/dice formations as a visual aid.
Have a look and listen…and see for yourself how useful this song is as a concise supplement to teaching basic number skills!

This song and video make for a convenient opportunity to observe naming and representing numbers in a meaningful way, especially if you use dice and dominoes in other areas of your programming/play (see below for activity suggestions to pair with this song/video in your programming).
Learning the basics about numbers leads to more complex, abstract mathematical procedures and problem solving.  When we fully understand mathematical procedures and functions, we learn about logic, deductive reasoning, critical thinking and making sense of the world in general.  We have to start somewhere, though–so start with this song and video!
If you find this video useful, SUBSCRIBE to Nancy's YouTube Channel HERE to be notified when new musical content is uploaded for educators/parents/caregivers like you!
Further Resources:
This dice and 1:1 Correspondence activity from Pre-K Pages extends learning about numbers into comprehension of quantity associated with numbers, and is a meaningful activity to pair with this song/video.
This dice/domino Subitizing reference, also from Pre-K Pages (can you tell I love Pre-K Pages?), offers useful ideas for activity planning that will teach children about numbers.
Join Nancy's FB community of parents, educators and caregivers here.
Sign up for Nancy's free webinars here to learn more about how you can incorporate her music and extend her ideas into your early learning environment.