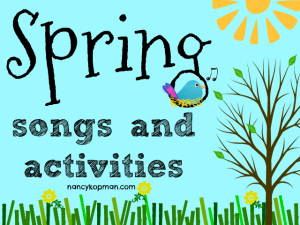 Spring is a favourite season to so many. For young children, it's a time of year that brings new/familiar sounds, smells, experiences and warmth. The birds are singing in the trees–and so are children as they play, learn and grow.
Music plays a big part in marking important transitions, and Spring is a great opportunity to take a look at the world around us and notice what's changing with a happy song, like my song, "The Seasons":

Here are 3 easy-to-learn, easy-to-teach songs that can help you create that special Spring feeling with your students/children.
You can download all of these songs here–and find more fun videos like these on my YouTube Channel.
3 Easy Spring Songs for
Young Children:
"Apple tree, apple tree, grow so high! Grow until you touch the sky. Grow red apples and green and yellow, too. Grow the way that you want to…."
Planting is a widely used classroom theme around Spring time, and is a great opportunity to celebrate our connection with nature. It's easy to see the similarities between how plants and people grow, especially with a spring song and video like "Apple Tree", from "I Know I'll Grow…."

"Rain…it's raining outside. I can hear it raining outside….it's raining…"
Why sing about telling the rain to "go away", when rain is such an important part of how the Earth works? Rain is relaxing to watch and listen to. It smells good. It makes the grass grow. It feels good on our face and hands. Puddles are fun to splash in! Celebrate Spring weather like Rain by singing this soothing spring song.
"Tweety, tweet, tweet, tweet, I hear birds outside…birds outside, I hear birds outside…I can see them in the tree…and they are looking back at me!"
One of the best sounds in nature is the birds singing in the trees. This song is a simple one, easy to learn and easy to sing along with.

I have other songs that pertain to Spring, like "What's The Weather"  and "Animal Farm", which also have videos–you can find them (and more) on my YouTube Channel.
Spring activity ideas from some of my favourite pages:
Fun spring activities from Hands on As We Grow!
Spring crafts kids will love from Happy Hooligans!
Red Ted Art ideas you'll love!
Spring Themes from Mom Inspired Life!
Best Picture Books for Spring from Pragmatic Mom!