Leading a MUSIC AND MOVEMENT CLASS that gets RESULTS!
March 5, 2017
Are you looking to incorporate easy music into your programming?
Are considering transitioning into teaching music and movement classes yourself?
 STOP AND READ THIS!
I'm Nancy Kopman, a.k.a. "Music With Nancy". I'm an early childhood educator, former preschool and kindergarten teacher with 20+ years teaching experience and 5 albums worth of educational, interactive children's songs that are designed to help you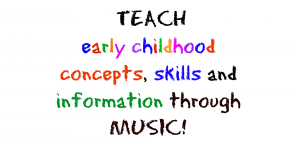 I have developed, refined and polished my own unique music and movement program, and can show you from my experience how easy it can be to give caregivers and children the most that music and movement classes have to offer.
Since the day I branched off from being a classroom teacher and started teaching multiple weekly music and movement classes, I done TONS of footwork to learn what works best and what DOESN'T work. I can tell you everything you need to know to make music and movement classes run smoothly, conveniently and leave everyone feeling great.
There are many important MUST HAVE details when creating a music and movement program.
I can show you EXACTLY what you need to include in your class policy, how to structure payment, and what you need to include in your class content.  Most importantly, I'll provide you with music that keeps babies, toddlers and their caregivers ENGAGED and INTERESTED while it TEACHES.
Don't make errors that often put an end to programs before they start.
First–watch my free webinar, where I'll give you music and movement ideas (that don't even require the ability to play an instrument). I'll provide resources and extension ideas, and get you on the right path to creating your own successful music and movement program.
With the right organizational approach, you'll get my catchy, educational and interactive music working for you….EASILY.
Here's a quick look at what my music has to offer:

Join my community of educators, caregivers and parents to learn specific ideas and watch FB Live videos here!