Virtual Music Teacher: Interactive, Instructional Music Videos for your Kids/Students
May 14, 2016
"I want to use music when I'm teaching, but I'm not musical…"
Home schooling? Teaching preschool? Running a Daycare? Want to incorporate music into your programming, but don't play an instrument? Nervous about singing in front of your students/kids?
Help is just a click away!
No shrill, in-your-face music. No overstimulating, confusing, flashy visuals. Calm, even-paced, nurturing instructional videos designed for you to use as a "supply music teacher" that you can use anytime you want.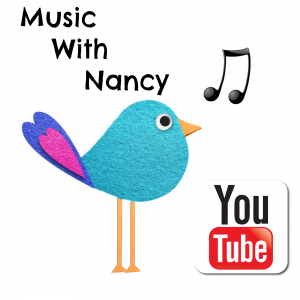 Use the "Nancy Teaches" playlist on Nancy's YouTube channel, "Music With Nancy" to learn directly from Nancy's teaching method.
Just choose a song/video, learn along with Nancy, and sing, sing, sing!
6 FREE & Easy Instructional Videos You Can Use:
You'll find lots more music teacher resource videos on Nancy's YouTube Channel! Make sure you subscribe, so you'll be notified when new content is uploaded.